Difficulties in heat treatment process of reed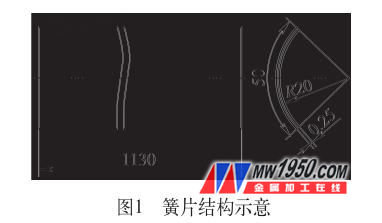 The reed shown in Figure 1 is a part of a company's product, made of 60Si2MnA, and has a heat treatment hardness of 470~543HV.
The piece is in the shape of a circular arc with a thickness of only 0.25 mm and a poor rigidity. There are many difficulties in production and manufacturing, mainly reflected in:
(l) Cold forming and heat treatment conformal are difficult. No matter which heating method is used, the parts will be completely unrecognizable.
(2) It is difficult to ensure uniformity of hardness. 60Si2MnA steel quenching to maintain uniform hardness is not difficult, but such thin and long parts, processed on general equipment, often is cold, not hardened or disparity in hardness, large or inconsistent after winding, working parts It is curved or serpent-shaped and cannot be pushed or pushed forward to meet the requirements of use.
(3) The problem of oxidation and decarburization of parts is difficult to solve.

HHCMS-200 carbon molecular sieves
CMS-200 is a new kind of non-polar adsorbent specially designed for extracting nitrogen-rich gas from air. It is suitable for separating nitrogen from air. It has a high adsorption capacity for oxygen and can separate nitrogen from air.
The most notable feature of the Carbon Molecular Sieve is its high gas-producing efficiency, especially the preparation of nitrogen with a purity of less than 99.5%.

It is widely used in large air nitrogen making equipment.
Project parameters
The diameter of:1.0-1.3 1.3-1.5

Packing density:≥660kg/m³

The intensity of particle:≥95

Compressive strength abrasion:≤1%

The moisture content:≤0.5%

Standard packing:20Kg/barrel. 40Kg/barrel. 130Kg/barrel
The adsorption time of test condition was 58s with an average pressure of 1-2s
Adsorption pressure

Nitrogen purity (%)

Yield (Nm3/ h.t.)

Nitrogen recovery rate

0.8MPa

99.9

120

30

99.5

200

37

99

250

41

98

310

45

97

370

47

96

420

50

95

490

55

0.6MPa

99.9

95

31

99.5

160

38

99

200

43

98

245

46

97

300

49

96

335

51

95

390

56
Pay attention to
1. The nitrogen production equipment can reduce the adsorption temperature to better show its excellent nitrogen production performance under conditions;
2. Pay attention to low temperature drying and seal preservation during storage;
Molecular Sieves Hhcms-200,Molecular Sieve Regeneration,Activate Molecular Sieves,Psa-Carbon Molecular Sieves
Zhejiang Changxing Haihua Chemical Co.,Ltd. , http://www.zjcxhhcms.com