Gansu Province continues to promote the backward production capacity
/*kangxianyue 250*250 was created on 2017/3/29*/ var cpro_id = "u2939694";
The Gansu Provincial Industry and Information Technology Commission, the Provincial Development and Reform Commission, the Provincial Environmental Protection Department, the Provincial Quality Supervision Bureau, and the Provincial Safety Supervision Bureau have jointly issued the "Gansu Province's work plan to promote the backward production capacity to withdraw from the 2018 work plan", clarifying that Gansu Province will Focusing on steel, coal, cement, electrolytic aluminum, flat glass and other industries, through the improvement of comprehensive standards system, strict normalization of law enforcement and implementation of mandatory standards, a number of energy consumption, environmental protection, safety, technology can not meet standards and production Unqualified products or eliminated production capacity shall be shut down according to regulations.
Gansu Daily News on the 28th, according to the "Proposal", the province's industry will continue to shut down the "strip steel" enterprises, to ensure that the "strip steel" can not be revived, and the "Industrial Structure Adjustment Guidance Catalogue (2011)) (2013 revision) )) The production line or equipment for backward production capacity.
The "Proposal" requires all departments to strictly implement the Energy Conservation Law. The production capacity that does not meet the mandatory energy consumption limit standards should be rectified within 6 months; if it is necessary to extend the rectification period, it may be proposed not to exceed 3 months. Application for extension; if it has not been rectified within the time limit or has not been up to standard after rectification, it shall be closed down according to law. For enterprises that exceed the standard or exceed the total discharge of major pollutants and violate the relevant laws and regulations on solid waste management, they shall be ordered to take measures such as restricting production and stopping production and rectification; for enterprises that have long-term over-standard or excessive total emissions and have no hope of environmental protection, The people's government that approved the authority approved and ordered to close down and close. For production capacity whose relevant product quality does not meet the mandatory standard requirements, it shall be investigated and ordered according to law and ordered to suspend production and rectification; if it has not been rectified within 6 months or has not been rectified through rectification, the people's government that has passed the approval authority shall stop and withdraw according to law.
At the same time, Gansu Province will make full use of the industrial enterprise structure adjustment special award fund, differential electricity price increase income, etc., to support qualified employees in the resettlement, transformation of production and other transformation. Through the promotion of advanced applicable technologies, enterprises will be guided to carry out technological transformation and upgrading to improve operational efficiency. For the production capacity of cement, electrolytic aluminum and other industries that do not meet the mandatory standards for energy consumption and electricity consumption, the price of differentiated energy resources such as differential electricity price, ladder price, punitive electricity price and over-quota water price increase will be implemented.
In addition, the "Plan" also clarifies that employee placement should be the top priority of de-capacity work, guide enterprises to implement the main responsibility, properly handle labor relations according to law, and formulate employee resettlement plans and risk disposal plans. We will implement policies to promote self-employment, encourage enterprises to absorb employment, and help the employment of people with difficulties. We will do a good job in the continuation and transfer of social security relations and implement social security benefits in accordance with regulations.
Finger Joint Board, also known as integrated board, is a woodworking joint made by cutting a set of complementary wood pieces, to form long pieces of lumber from solid boards, the result is finger-jointed lumber. It is stronger then a butt joint or lap joint.
Luli Group Co., Ltd, is a professional manufacturer in wood panel products with rich experience. We are able to supply customers' requirements in panel products in various sizes and specifications with good quality.
The utility model of Finger joint board has the advantages because the connection of the solid wood joint is less, and the amount of rubber used is less, so it`s environment friendly.
It is easy to process, cutting and shaping.
The finger joint board can be very useful with fixing tables and chairs, also can be used high-end furniture making, wall panels, interior decoration and so on.
The details of Finger joint board:
Size: 1220mm x 2440mm(Standard size) or customize
Thickness: From 6mm to 30mm or according to request
Density: 480kg – 550kg/m3
Materials: Chile pine, Radiant pine, Mongolian scotch, White pine
Glue: E0, E1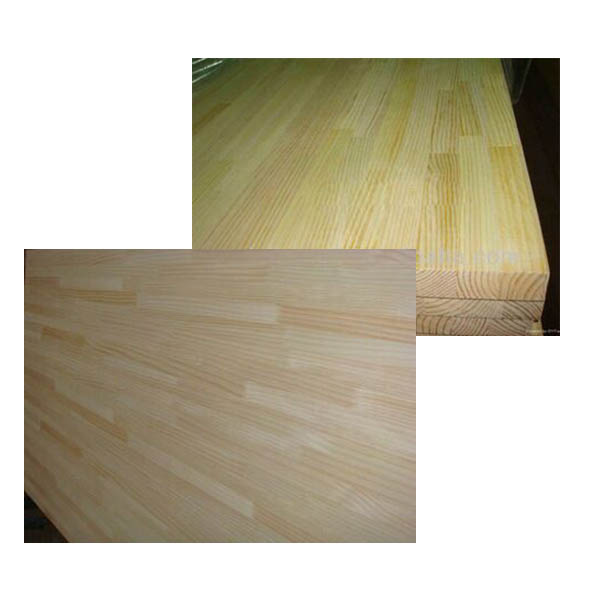 Finger Joint Board
Finger Joint Board,Wood Finger Joint Board,Finger Joint Lumber Board,Finger Joint Laminated Board
Luli Group Co.,Ltd. , https://www.cnluli.com